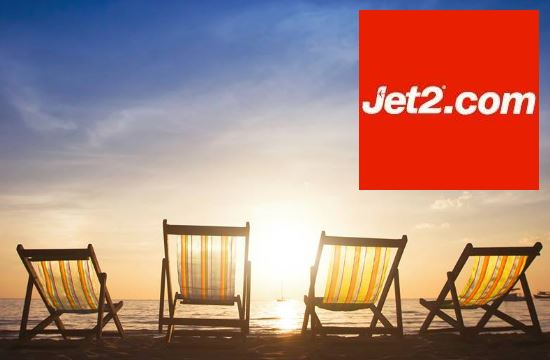 Jet2.com and Jet2holidays have continued to strengthen their position as the leading airline and tour operator from the UK to Greece by expanding their 2023 schedule even further – through the addition of new routes and extended seasons.
After a hugely successful Summer 22 – which saw the companies operate their biggest-ever schedule to Greece without making a single cancellation – Jet2.com and Jet2holidays have released an even bigger Summer 23 schedule.
This huge program includes:
15 destinations available including three new routes (Bristol-Chania, East Midlands-Santorini and London Stansted-Athens)
Summer 23 capacity increase with 1.3 million arrival seats on sale
Athens becomes a year-round destination
Extended seasons including Easter flights added to Rhodes and Halkidiki. The company will start flying to Rhodes from April 2 until November, as well as flights to Halkidiki from April 1, 2023.
Increased frequency to destinations such as Corfu, Rhodes and Skiathos.
Steve Heapy, CEO of Jet2.com and Jet2holidays, is in Greece this week to meet with hoteliers, industry representatives and government to detail these growth plans, as well as Jet2's continued commitment to Greece. He will travel to Corfu, Zante, Chania, Heraklion, Rhodes and Kos to highlight how Jet2.com and Jet2holidays continue to develop long-term partnerships with hoteliers and the industry in Greece.
It will highlight Jet2.com and Jet2holidays' award-winning customer service, which has seen companies win numerous awards including Which? Travel Brand of the Year, as well as a partnership approach that sees Jet2 invest in marketing both its own brand and hoteliers' brands.
He will also talk about Jet2's Net Zero strategy, which sees the company putting sustainability at every stage of the journey – on the ground, in the resort and in the air.
Steve Heapy, CEO of Jet2.com and Jet2holidays, said: "As the UK's leading airline and tour operator to Greece, we have responded to the continued demand for Greek holidays from UK holidaymakers by giving them the holiday choices they want and by developing our program. to Greece even further. We have continued to invest heavily in Greece, and the fantastic partnerships we have built are central to our continued success. I look forward to meeting current and future partners and telling them about our award-winning business, how we have grown tremendously in Greece and how we are here to stay, building long-term partnerships in as we succeed.
Eleni Skarveli, Director of GNTO UK & Ireland, said: "After a successful 2022 summer period, we are very pleased that demand for Greek holidays from UK holidaymakers continues to increase. It is with incredible momentum that Jet2.com and Jet2holidays kick off their summer 2023 season from April to sunny Halkidiki and cosmopolitan Rhodes. Travelers will now have a wider range of choices for Greek offerings.
RELATED TOPICS: Greece, Greek tourism news, Tourism in Greece, The Greek Islands, Hotels in Greece, Trip to Greece, Greek destinations, Greek travel market, Greek tourism statistics, Greek tourism report